This is not your store bought version of the flower choker. You won't run into an arch enemy copping the same look. Impossible! Every flower has a limited availability. Be the only fashion gurly on your block, city, even state with these chokers. Each flower is mounted on a pin and comes with coordinating ribbon.
Our Products
Pink center Magnolia: $12.00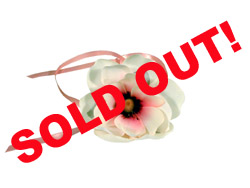 How to Order

Note the color, item name and price and email it to: jesredstar@aol.com (link below). Shipping and Handling is $3.89 for 2-3 day delivery. Please email any questions you may have!

Coming Soon!

More flowers to come! Pink Peony, Red Magnolia,White Magnolia, White Beauty, and Purple Dahlia! Look for other accessories like handbags, beachbags and general cuteness! All made by: girl.